Oliver's Nannies is pleased to support two SOMA events over the next two months!
General Store Cooperative Pop-Up Kids Shop (1875 Springfield Ave from 4/13 to 5/19 daily)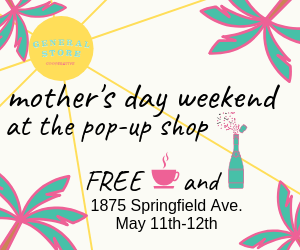 This pop shop features some exciting and creative goods for kids created by more than 75 local businesses. There are daily events from story time to art shows. Check it out!
We will be there from May 10th to the 12th supply drinks, coffee, and the chance to win a massage! This could be a great opportunity to score a nice for Mom! The announcement of the massage gift winner will take place on Mother's day!
Maple South Orange Book Festival (The Woodland in Maplewood on June 7th and 8th)
The 2019 festival will be open on Friday, June 7th with An Evening With Eve Ensler. The proceeds from this event will benefit the Maplewood and South Orange libraries. The main festival will take place on Saturday, June 8th from 10AM-5PM and featured nearly 75 children's and adult authors including Ron Darling, R.L. Stine, Nell Freudenberger, Myla Goldberg, Tyler Kepner, Dale Berra, Dan Gutman, Robert Stone, and many others.
We are pleased to support our local authors and reading as a 2019 sponsor!
Call Today 973-671-1277 for a free summer reading bookmark!